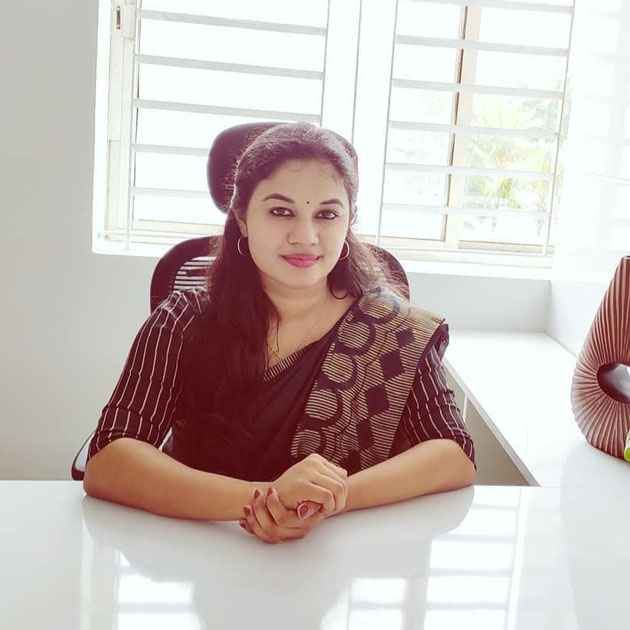 Mrs. Chandana Gopan
Clinical Psychologist
M.Phil (Clinical Psychology)
Mrs. Chandana Gopan is a licensed expert in Clinical Psychology, who completed her M.Phil from SRM Medical College Hospital and Research Centre. Prior to joining our team, she worked at CDMRP, a joint government project of Calicut University and Social Justice Department as well as at Solace Neurobehavioral Centre, Thrissur as a Consultant Clinical Psychologist.
As part of her training in Psychology, she also has experience interning at renowned hospitals such as CMC, Vellore and Jubilee Mission Hospital, Thrissur. Her passion for research is unwavering including a thesis on Neurocognitive functioning and thought disorder among schizophrenia patients, their first degree relatives and healthy controls.
She is trained to assess, diagnose and treat mental, emotional and behavioural disorders as well as to perform diagnostic tests and psychological assessments including IQ, Personality, ADHD, Learning Disability, Mental Retardation, Autism etc. , prepare psychological assessment reports and provide individual, group and family psychotherapies. Her experience in dealing with problems ranging from short term to severe chronic conditions in varied population such as child, adolescent, adult, old age as well as a specific subset of people with neuropsychological disorders has proven to be a valuable asset. She is dedicated to serving patients in a meaningful way by listening to their concerns and helping them on how to approach their problems.
In addition to providing psychological intervention for adults suffering from depression, anxiety, obsessive-compulsive disorder, adjustment problems, anger control problems, addiction disorders, and suicidal thinking, her areas of interest also include working with children with ADHD, Autism, Learning disorders, and oppositional or risk-taking behaviour. She gives special focus on working with family and couples and provides marital and family counselling.