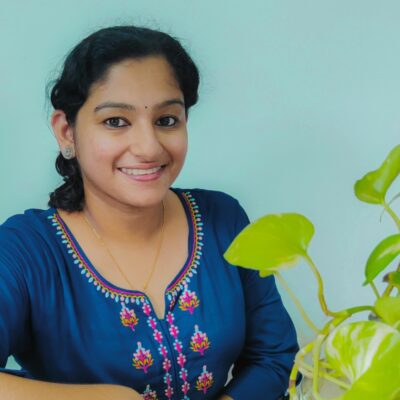 Mrs. Anjali P H
Clinical Psychologist
M.Phil (Clinical Psychology)
Mrs. Anjali P H is a licensed Clinical Psychologist with RCI registration. She completed her M.Phil in Clinical Psychology from Amrita Institute of Medical Sciences and Research Center, Kochi, and her Master's in Applied Psychology from PSG College of Arts and Science, Coimbatore. She obtained her Bachelor's degree in Psychology from UC College, Aluva. Prior to joining our team, she worked as a Consultant Clinical Psychologist at the Center for Harmonious Living (CHL) in Kumbidi, Palakkad, and INHS Sanjivani, Naval Base, Kochi.
During her academic pursuits, she conducted her thesis on the topic of emotional awareness, emotional regulation, and cognitive functioning in psychogenic epileptic seizures among adolescents and young adults.
She is an expert in psychodiagnostic assessments, IQ tests, learning disability assessments, and neuropsychological assessments. She has extensive experience in working with individuals who suffer from anxiety disorders, depression, obsessive-compulsive disorder, personality disorders, and other emotional problems. Additionally, she is skilled in addressing marital and family issues.
Her specialization lies in Acceptance and Commitment Therapy, Cognitive Behavioral Therapy, Dialectical Behavior Therapy, and Process-based Psychotherapy. She also has expertise in behavior management and cognitive retraining.