Workshop | 11 Dec 2022 | Comprehensive Sexual Health – Psychological Approaches
November 17, 2022 11:44 pm
Nair's Hospital and Insight – it's centre for learning and psychology is conducting a workshop on 'Comprehensive Sexual Health – Psychological Approaches' on 11 December 2022, from 9:30 AM – 4:30 PM at Sugar Business Hotel, NH-66, INTUC Junction, Nettoor, Maradu, Kochi.
Speaker: Mr. Suni M S, Clinical Psychologist
Mr. Suni M S is a Consultant Clinical Psychologist in MES Academy of Medical Sciences, Perinthalmanna and Associate Professor in MES College of Nursing. A voracious orator, he continues to capture the attention of the young generation of psychologists with his intriguing ideas in newer modes of therapy. His current project emphasises on 'social cognition in depression'. His area of accomplishment involves sex therapy, marital and family therapy, along with other evidence-based practices in clinical populations.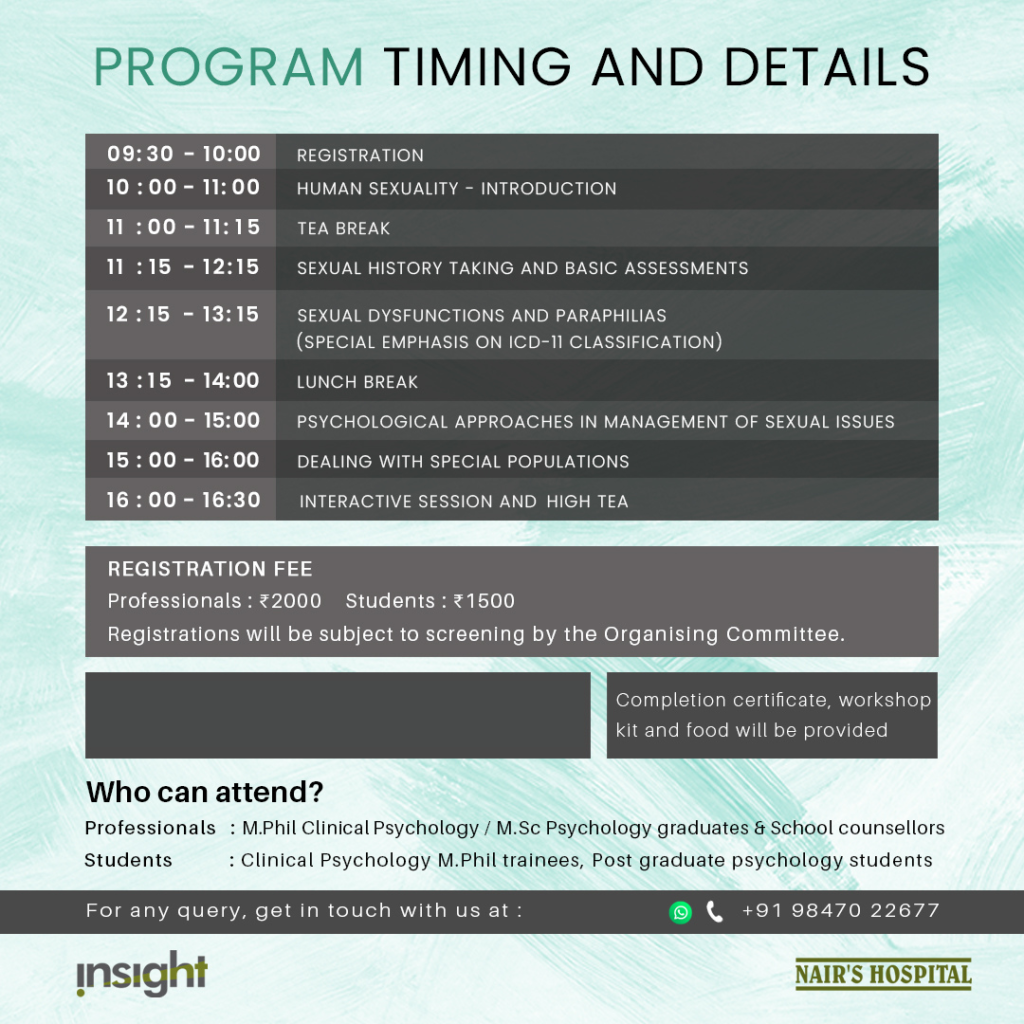 Who can attend:
Professionals: M.Phil Clinical Psychology / M.Sc Psychology graduates & School counsellors
Students: Clinical Psychology M.Phil trainees, Post Graduate psychology students

Registration fees:
Professionals: ₹2000
Students: ₹1500
EDIT: Psychiatrists and post graduate psychiatry students can also register as professionals and students respectively.
Those registering as students are requested to provide a proof of study of course from their institutions.
REGISTRATION FOR THIS WORKSHOP HAS ENDED……